Bachelor of Science in Public Health (Community Health)
Home ›
BSc ›
Bachelor of Science in Public Health (Community Health)
Program Description
How much of Thailand's food supply contain banned pesticides? What is the most cost-effective solution for preventing dengue fever in rural communities?
Through our Community Health program, students shall acquire the knowledge needed to effectively answer these types of public health questions. Enrolling in our program means you will be exposed to various medical disciplines and explore on health issues affecting communities today.
At St Theresa International College, you shall be immersed in real-world public health situations where you will gain important practical skills which can be applied immediately outside the classroom. After graduating with a major in Community Health, you will be equipped to face the tough challenges in saving lives!
What will I learn?
Our Bachelors of Science in Public Health (Major in Community Health) trains students inefficient examination of communities in order to effectively plan, prepare and apply solutions to address community health concerns.
Whether it is identifying environmental hazards, to caring for the elderly, the program has been designed to give you crucial insights into the numerous social, psychological, environmental, technological, cultural and political factors that are affecting the health of society.
Through lectures from reputable public health academicians and participation in fieldwork activities, students shall be made more aware of the real-life health issues affecting the community.
Courses in the program shall also enlighten students with the basic fundamentals of measurement and evaluation, theoretical and practical treatment for disease prevention, health promotion and research methods.
St Theresa's international environment encourages students to expand upon their English language skills which shall be an advantage for securing job positions in public health agencies anywhere around the world.
The program's low student-to-faculty ratio encourages a sense of community that strengthens valuable skills such as teamwork and harmonious cooperation. At the conclusion of the program, students are required to complete an internship, where they will gain actual working experience of the daily operations of public health officers.
The Possibilities Are Endless
Graduates of the program shall be highly qualified for employment in government agencies or private and nonprofit health organizations at international levels. The high costs of health care have influenced Thailand's high demand for public health workers, which means that employment can be secured very soon after graduation! The broad perspective of health that our students develop within the program shall be a distinct advantage for entering into postgraduate studies in the fields of medicine, physical therapy or public health.
Careers
Health Promotion Officer
Chronic Disease Specialist
Work-life Balance Adviser
Sexual and Reproductive Health Promoter
Promoter for HIV/ AIDS prevention
Nutritionist
Physical Activity Specialist
Safety Specialist
Environmental Health Specialist
Before You Apply
Applicants must have successfully completed High School (Matthayom 6) majoring in Science and Maths.
Satisfactory English proficiency.
Must be of good moral character and psychological capacity, and no contagious diseases.
Required Documents:
Completed Application Form and Fees
Certified True Copy of Official Transcript of Records
Certified True Copy of National ID Card
Two (2) recently taken 2×2 inch photographs.
Certified True Copy of Name Change Certificate (if any)
Last updated Nov 2017
About the School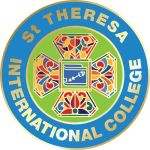 St. Theresa International College was established in 2001 as an international college of higher education, accredited by the Commission of Higher Education, Ministry of Education, Thailand. The Colleg ... Read More
St. Theresa International College was established in 2001 as an international college of higher education, accredited by the Commission of Higher Education, Ministry of Education, Thailand. The College has a long-term objective and commitment to continually develop the quality of its degree programs through international collaborations while producing valuable graduates for multi-national professions.
Read less