Doctor of Chiropractic
Home ›
PhD ›
Doctor of Chiropractic
Program Description
Program Purpose
The Doctor of Chiropractic degree program advances the Mission, Vision, and Values of New York Chiropractic College through its preparation of doctors of chiropractic who provide primary and collaborative care, and who place special emphasis on neuromusculoskeletal conditions and overall patient wellness.
Program Goals
To embody the principles of academic excellence and patient-centered care through the analysis of evidence, utilization of best practices and incorporation of patient values in clinical assessment, diagnosis, chiropractic technique, case management, and documentation.
To exhibit and value integrity, compassion and ethical principles in alignment with chiropractic professional standards and consistent with the role of a healthcare provider while accepting responsibility for personal actions.
To demonstrate effective leadership skills.
To contribute positively to the chiropractic profession and broader community by utilizing knowledge and skills to assess critical issues, adapt to change, and communicate effectively with diverse populations.
Facts About NYCC & Chiropractic
Special emphasis is given to the treatment of neuromusculoskeletal conditions.
Discover the science, art, and philosophy of chiropractic.
Get one-on-one attention and mentoring from faculty members who are practicing doctors of chiropractic.
Prepare for a successful career with education focusing on practice development along with in-depth chiropractic study.
Become part of one of the fastest growing, highest-demand healthcare professions.

U.S. Dept. of Labor predicts that openings for doctors of chiropractic will grow faster than average for health-related occupations, as demand for complementary medicine increases

Benefit from real-world experience with internships in an array of diverse healthcare environments.
We are helping to advance the chiropractic profession by actively supporting chiropractic research.
Learn to manage patient care through collaborative partnerships with other traditional and alternative healthcare professional.
Duration of the Doctoral Degree Program
The Doctor of Chiropractic (D.C.) degree requires a minimum of ten 15-week trimesters (three years and four months, total) of full-time resident study, including a clinical internship.
This is the equivalent of five academic years.
Students who need to complete the program over a period longer than the stated minimum may do so under the guidance of the Dean of Chiropractic.
To be awarded the D.C. degree, it is mandatory that degree requirements be completed within seven calendar years of original matriculation.
Course Information and Academic Calendar
Summary of Course Hours for Doctor of Chiropractic
Anatomy 585 hours
Biochemistry 75 hours
Physiopathology 330 hours
Microbiology and Public Health 135 hours
Diagnosis 540 hours
Diagnostic Imaging 270 hours
Clinical Laboratory 75 hours
Associated Studies 150 hours
Chiropractic Philosophy 195 hours
Chiropractic Technique 615 hours
Ancillary Therapeutic Procedures 90 hours
Clinical Practice Issues 195 hours
Clinical Experience and Outpatient Services 1,305 hours
Total Core hours 4,560 hours
Elective Courses 135 hours
Total 4,695 hours
Clinical Opportunities
Starting the seventh trimester.
Full-year clinic-based internship.
Clinical practice and research settings.
Four NYCC operated health centers: Seneca Falls, Buffalo/Depew, Rochester, Long Island/Levittown.
Major hospitals, research centers, and clinics:

Veterans Administration (VA) Hospitals (Canandaigua, Rochester, Bath, and Buffalo, NY).
University of Rochester Medical Center (Monroe Community Hospital).
Salvation Army Clinics.
Buffalo Spine and Sports Institute.
National Naval Medical Center; Bethesda, MD.
Last updated Dec 2017
About the School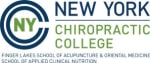 New York Chiropractic College is committed to academic excellence, quality paitent care, and professional leadership.
New York Chiropractic College is committed to academic excellence, quality paitent care, and professional leadership.
Read less