Master in Veterinary Medicine - On-tier
Home ›
Master ›
Master in Veterinary Medicine - On-tier
Program Description
This Program is open to high school graduates as it is a combined Bachelor and Master Program
UNIVERSITY OF VETERINARY MEDICINE BUDAPEST (U.V.M.B.)
230 years of tradition (founded in 1787)
30 years of experience with teaching international students
In the TOP7 European Veterinary Universities
Research Faculty title for its outstanding scientific achievements
Valuable European degree: Establishments for Veterinary Education (EAEVE) accreditation, American Veterinary Medical Association (AVMA) accreditation is in progress
Secure environment: small, centrally located campus (altogether approximately 1200-1300 students) – students and teachers easily get to know each other
The most international veterinary campus in Europe: 65% of students come from foreign countries
VETERINARY MEDICINE PROGRAM (MASTER)
Practice-oriented training: Theoretical foundation of studies, followed by a practical training on how to treat and cure animals
Quality education, 5.5 years:

Preclinical period: 4 semesters, main subjects (like Anatomy, Histology, Biochemistry etc) and farm practicum in animal husbandry
Clinical-paraclinical period: 7 semesters, includes the paraclinical subjects (like Animal Breeding and Husbandry, Pathology, Pharmacology, Toxicology, Food Hygiene, State Veterinary Medicine and Economics, Forensic Veterinary Medicine etc), and weekly clinical hours in Veterinary Medicine, Veterinary Surgery, Obstetrics and Animal Reproduction

Small and Large Animal Clinics: provide students, staff, and clients with 21st-century facilities for diagnostics and treatment
Well-paid profession: After 5.5 years of studies, students receive the Doctor of Veterinary Medicine diploma. It ensures outstanding career prospects, a respected and acknowledged profession
STUDY PROGRAMME STRUCTURE
The entire curriculum consists of more than 5000 hours, a curriculum standard for the European Community.
The program lasts 5.5 years divided into 11 semesters.
Before the conclusion of the program, students submit and defend a thesis; and pass the state examination.
The curriculum contains lectures, practicums, and field- or extramural practice. (Lectures are given for an entire term, practicums are held in a tutorial system with 8-15 students in a group.)
The curriculum is divided into a pre-clinical and a clinical-paraclinical period.
The pre-clinical period
This comprises of the first four semesters (two years). The main subjects are Anatomy, Histology, Embryology, Biology,
Chemistry, Biophysics, Zoology, Physiology, Biochemistry, Biomathematics and Computer Applications.
Languages can be chosen as electives.
The pre-clinical period also contains a farm practicum in animal husbandry.
The clinical-paraclinical period
This period lasts three years and includes the paraclinical subjects Animal Breeding & Husbandry, Pathology, Pharmacology, Toxicology, Immunology, Microbiology, Virology, Pathophysiology, Parasitology, Epizootiology, Animal Nutrition, Animal Hygiene, Food Hygiene, State Veterinary Medicine and Economics, and Forensic Veterinary Medicine.
Parallel to these, the student has a large number of weekly clinical hours in Veterinary Medicine, Veterinary Surgery, Obstetrics and Animal Reproduction.
The clinical-paraclinical period includes several extramural practicums. Subjects listed for both the pre-clinical and the paraclinical-clinical periods are the core studies complemented with a number of minor and elective subjects.
Final exams are typically oral, semi-finals and mid-terms are both oral and written. All graduates of the Budapest veterinary school have had their diplomas accepted, or easily passed the local board exam (where it was needed) in their home countries and they are working as fully licensed veterinarians.
FIELDS OF CAREER OPPORTUNITIES
Small and Large Animal Clinics
State Office of Veterinary Hygiene
Public Health
Farms
Zoo
Exotic animals
APPLICATION AND ADMISSION
What do you need to apply to the University of Veterinary Medicine Budapest?
application form
high school leaving certificate
curriculum vitae (resume)
short medical report
copy of passport with your personal data
three passport size photos
letters of recommendation can be enclosed
Last updated Jan 2019
About the School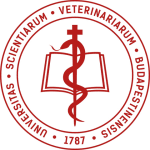 The University of Veterinary Medicine Budapest is the only veterinary school in Hungary.
The University of Veterinary Medicine Budapest is the only veterinary school in Hungary.
Read less