Master's Degree in Clinical Nutrition - Blended
Home ›
Master ›
Master's Degree in Clinical Nutrition - Blended
Program Description
General information
Modality : mixed
Beginning : October
Duration : 1 academic year
ECTS Credits : 60
Director : Juana Mulero Cánovas
Presentación
Changes in lifestyle and increased longevity have increased morbidity and mortality figures for chronic diseases such as obesity, diabetes mellitus, hyperlipidaemia, high blood pressure, osteoporosis.
The treatment of these diseases not only requires pharmacological therapy, but also nutritional therapy. This necessitates the specialized training of health professionals in the development of nutritional therapies as part of a comprehensive treatment of patients.
Research in basic nutrition is the mainstay on which applied nutrition is based. Researchers in clinical nutrition are more and more; A necessary figure in hospital centers where different types of diets and artificial nutrition formulas are tested.
The test and the prescription of therapeutic diets applied to different pathologies need the direction and supervision of researchers able to design the composition of the diet, to guide the duration of the same and to evaluate and to disseminate to the scientific community the results observed in the evolution of the Disease of the patient.
GOALS
The main objective of this Master is to train professionals in Biomedical Sciences in all aspects related to Human Nutrition and, more specifically, in the study of the causes of malnutrition associated with various pathological alterations and their nutritional treatment.
The different types of artificial nutrition, possible drug-nutrient interactions, as well as the cellular, molecular and genetic aspects that determine the use of nutrients and other bioactive components of foods are studied.
Recipients
Access from directly linked qualifications:
Graduates and graduates in Human Nutrition and Dietetics
Pharmacy graduates *
Graduates in Medicine *
Graduates and graduates in Nursing *
Access from related qualifications *:
Degree in Veterinary Medicine
Degree in Biology
Degree in Chemistry
Degree in Biochemistry
Graduates and graduates in Food Science and Technology
* The completion of a Master's Degree in Clinical Nutrition by these professionals will not train them for the Clinical Nutrition consultation, but to carry out research in this field.
Career prospects
Professional member of the Hospital Nutrition Units.
Basic and Applied Research in University Centers, Research Centers, Pharmaceutical Industry, Food Industry.
Clinical Nutrition Consultation.
CURRICULUM
I. Nutrition in different pathologies
II. Nutrition in endocrine-metabolic diseases and artificial nutrition
III. Nutritional care (professional itinerary) *
IV. Methodology for research, development and innovation in food sciences and nutrigenomics (research itinerary) *
V. Practicum and final master's work
* Choose an itinerary
Last updated Mar 2020
About the School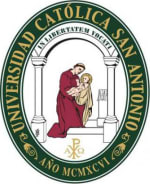 La Universidad Católica San Antonio - UCAM, como universidad católica, se caracteriza por ofrecer a sus alumnos una formación integral, basada en los conocimientos teóricos y técnicos específicos de c ... Read More
La Universidad Católica San Antonio - UCAM, como universidad católica, se caracteriza por ofrecer a sus alumnos una formación integral, basada en los conocimientos teóricos y técnicos específicos de cada titulación más la formación humana anclada en los principios del humanismo cristiano, a esta labor se dedican un claustro docente de reconocido prestigio y un equipo de tutores personales,
Read less