PhD in
Doctor of Physical Therapy (DPT)
Allen College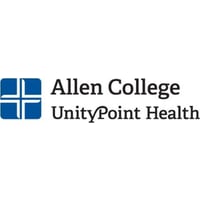 Scholarships
Explore scholarship opportunities to help fund your studies
Introduction
The physical therapy profession comprises highly educated, skilled, and ethical individuals dedicated to helping people of all ages prevent the loss of or restore the ability to move and function throughout life. Treatment strategies include the use of exercise, patient education, and hands-on techniques to facilitate rehabilitation. Physical therapists are essential members of the inter-professional health care team working collaboratively in various settings: schools, homes, hospitals, and clinics.
The Allen College DPT program offers a unique blend of online and onsite learning, developing entry-level physical therapists. The three-year curriculum emphasizes application and clinical reasoning skills through a mixed delivery of virtual and hands-on learning, comprehensively preparing students to pass the National Physical Therapy Examination.
The combination of online learning with in-person immersion experiences and clinical internships creates an innovative blend for students to excel while remaining close to current communities. Students learn alongside classmates in a virtual classroom. With blended learning, students have continuous access to online learning resources and connections to experienced program faculty with virtual teaching and learning expertise.
The mission of the Allen College DPT Program is to prepare competent, compassionate, and caring physical therapists who, through a diverse learning community and an innovative, blended educational format led by accomplished and veteran faculty, practice with a commitment to lifelong learning, engagement in their community and leadership in the profession.