Bachelor in
Bachelor in Athletic Training
Aquinas College

Scholarships
Explore scholarship opportunities to help fund your studies
Introduction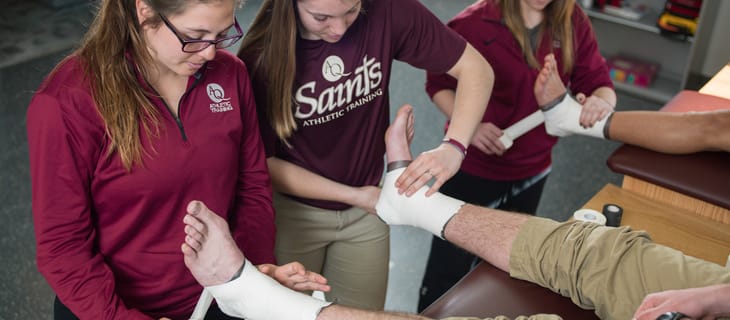 Why Study Kinesiology?
Love sport, fitness or helping people heal? Kinesiology has you covered. Kinesiology is the study of body movement, and it is home to everything associated with moving bodies. With four majors and six minors, you can gain the skills and education needed to combine your love of sport, fitness and helping people with healthcare, athletic training, teaching, coaching and personal training or business to land the job of your dreams. We are one of the few programs in the state where Athletic Training majors can also compete in intercollegiate athletics - giving our students a competitive edge. Our Business Administration/Sport Management majors can work with faculty to custom tailor their education to match their career goals by adding minors and concentrations. Our exercise science students get hands-on experience with faculty and our large network of successful alumni who work in the fitness industry. Physical Education Teaching majors benefit from small classes with state of the art sport and fitness facilities, giving them the best opportunity for success. No matter your specific major, our Kinesiology department will prepare you for a successful, rewarding and fulfilling career.
How We're Different
Community partnerships, internships, and student teaching provide real-world application and hands-on learning experience.
Four majors and six minors - Athletic Training, Business Administration/Sports Management, Teaching Physical Education, and Exercise Science majors; and Allied Health and Sports Science, Athletic Coaching, Exercise Science, Health Education, and Secondary Teaching (with or without Coaching) minors.
The Sturrus Sports & Fitness Center and Alksnis Athletics & Recreation Building, home to Kinesiology, have classroom and activity space not usually found at schools our size.
Alumni are well placed and respected in their fields, providing students with a network of contacts for internships and employment.
Six months after graduation, most Business Administration/Sports Management and Athletic Training Aquinas graduates have employment in the field or are enrolled in graduate school.
Student organizations provide community engagement, professional development and philanthropic activities.
Business Administration/Sport Management majors and student clubs raise $5,000+ each year for Grand Rapids area sport related charities.
Smaller class sizes than similar-sized schools enhance professor-student interaction.
Athletic Training majors can compete in intercollegiate athletics.
Business Administration/Sport Management majors tailor their education and gain market advantage with minors or concentrations.
The Athletic Training program (ATP) is accredited by the Commission on Accreditation of Athletic Training Education (CAATE).
Major Requirements
Sixty-two (62) credit hours and the senior clinical experience (KN440). Required courses:
KN149
KN158
KN200
KN249
KN250
KN251
KN256
KN257
KN349A
KN349B
KN350
KN354
KN356
KN357
KN360
KN362
KN365
KN366
KN440
KN449
KN460
BY155
BY156
PG100
PG202
Completion of clinical proficiencies.
Required prerequisites and course sequencing:
Due to the progressive nature in educating a student in the Athletic Training profession, it is imperative for a successful student in this program to adhere to the sequence of courses.
A student may not enrol in a course without the required prerequisite. See course descriptions for applicable prerequisites and the AT web page for the current course sequencing. As part of this program, students are required to complete 800 clinical hours under the direct supervision of a qualified allied health professional. Of those 800 clinical hours, a minimum of 200 clinical hours must be completed in an equipment intensive sport.
Students will be rotated through a variety of different clinical settings including but not limited to the following: men's and women's individual sports, men's and women's team sports, clinical work (such as a hospital or rehabilitation clinic), and work in a high school, college or professional sports setting. In addition to the coursework, students will be required to demonstrate their proficiency in the clinical skills needed for an entry-level Athletic Trainer to complete the major requirements.
Courses
KN149 Clinical Experience I (1)
KN158 Health Education—First Aid (3)
KN200 Surface Anatomy (2)
KN249 Clinical Experience II (1)
KN250 Physiology of Exercise (4)
KN251 Nutrition for Sports Performance (3)
KN256 Anatomical Kinesiology/Biomechanical Kinesiology (4)
KN257 Therapeutic Exercise (2)
KN349A Clinical Education III (1)
KN349B Clinical Education III (1)
KN350 Medical Aspects of Athletics/Physical Education (3)
KN354 Advanced Athletic Training (3)
KN356 Therapeutic Modalities (2)
KN357 Integrated Rehabilitation (3) WI
KN360 Pharmacology and General Medical Conditions (2)
KN362 Administration of Sport and Recreation (3)
KN365 Evaluation Procedures I (3)
KN366 Evaluation Procedures II (3)
KN440 Senior Clinical Experience (SCE) (6-12)
KN449 Clinical Experience IV (1)
KN460 Athletic Training Capstone (2)
BY155 Human Anatomy and Physiology I (4) NL
BY156 Human Anatomy and Physiology II (3)
PG100 Introductory Psychology (3) PSC
PG/SY202 Introduction to Research and Design (4) QR
English Language Requirements
Certify your English proficiency with the Duolingo English Test! The DET is a convenient, fast, and affordable online English test accepted by over 4,000 universities (like this one) around the world.