About the Partnership: DHGE and Duke CE
DHGE and Duke Corporate Education are working together to develop flexible, focused, and industry-relevant programs to equip leaders to make an impact on their organization.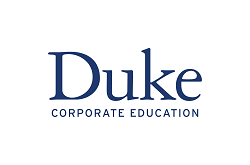 About Duke CE
Duke CE is the leadership development unit of Duke University. Duke CE works with some of the world's largest corporations in areas of talent and workforce development. The Financial Times has ranked Duke CE among the top three globally in custom executive education for 19 consecutive years. Duke University is consistently ranked in the top ten US News rankings for national universities and in the top 20 globally.

About DHGE
Dignity Health Global Education (DHGE) is the leading healthcare workforce development company. Dedicated to providing customized educational opportunities and a student-centric experience, DHGE develops online programs and workforce development solutions with industry, for the industry. They achieve this goal by partnering with top-ranked academic institutions and thought-leading professionals.
Programs
Certificate in Nurse Leadership
Certificate in Healthcare Leadership