Pre-Med in
Pre Medical Program at McDaniel College Budapest
McDaniel College Budapest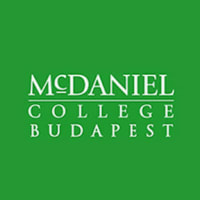 Introduction
As an EU member state, automatic recognition based on harmonized minimum training requirements for sectoral professions (doctors, nurses, dentists, veterinary surgeons, pharmacists and midwives) is provided.
Why Study at McDaniel College?
Reputation and Success
High success rate – upon completing our program, almost 90% of students gain admission to their desired university
More than 30 years of experience in preparing students for university studies
More than 10,000 students have completed the program since 1990
Credit bearing pre-professional training at the U.S. accredited McDaniel College
Teaching in small groups in a friendly environment
Program contents are based on university entrance exams
Academic support, student counselling, peer mentoring
Visiting universities and aid in applying to these schools
"Our mission is to prepare students for good medical universities. McDaniel College offers you an opportunity. There is no entrance examination."
Student Life and Services
Excellent student services and full assistance upon arrival (housing, obtaining residence permit, health insurance)
Diverse cultures, multicultural student body (over 40 nationalities)
A vibrant and colorful campus in the heart of Budapest, one of Europe's most popular and safest cities
Extracurricular activities (sightseeing, hiking, local & international trips)
Vibrant student life (international dinner party, art night etc.)
"Budapest has something for everyone – from dramatic history and flamboyant architecture to healing thermal waters and a nightlife that is unrivalled in Eastern and Central Europe."
Curriculum
Pre-Professional training programs
Pre-Medical/Veterinary Track
Two semester course (October to May)
Spring semester intensive course (January to May).
Prerequisite: excellent English command
Subjects taught
Human Biology
Essentials of Chemistry
Physics for Pre-Med I.–II.
Introduction to Medical English I.–II.
Elementary Hungarian I.–II.s I.–II.
Fundamentals of Composition/Critical reading
Oral Communication Skills I.–II.
English Academic Skills Training
This program allows international students to prepare for their chosen degree programs.
Two semester course (October to late May)
Spring semester course (February to late May)
Summer semester course (June to September)
Subjects taught
English (general English, English for special purposes and communication)
Program Outcome
Students completing our credit-bearing pre-professional programs can continue their studies worldwide but most of them aim at the following programs in Hungary:
Semmelweis University Budapest (Medical, Dental, Pharmacy and Health Sciences Faculty)
University of Szeged (Medical, Dental, Pharmacy and Health Sciences Faculty)
University of Pécs (Medical, Dental, Pharmacy and Health Sciences Faculty)
University of Veterinary Medicine, Budapest (Veterinary Medicine)
McDaniel College – Budapest Campus (BA in Business Administration & Economics, Communication, Political Science & International Studies, Psychology and Art History & Studio Art)