MSc in
MSc in Health Data Science
University of Birmingham - College of Medical and Dental Sciences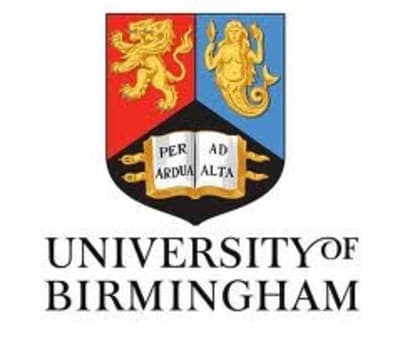 Key Information
---
Campus location
Birmingham, United Kingdom
Tuition fees
GBP 9,810 / per year *
Application deadline
Request info
Earliest start date
Request info
* for UK/EU students I £25,740 for International students
Introduction
This programme will provide students with a diversity of skills with hands-on expertise in harmonizing, integrating and analysing multimodal healthcare data.
This programme is ideally suited to the needs of future health data scientists, enabling them to perform analyses and develop novel tools and methods for this rapidly growing field. It is aimed at students with diverse backgrounds from biomedical/medical domains, including clinical trainees, as well as computer science, mathematics and statistics to conduct their own analyses, and also to create the next generation of cutting-edge health data scientists who will be able to develop new tools and methods matching the latest technological advancements.
Students will learn about the breadth of health data science, from medicine and biology, ethics and health care systems and clinical practice, to mathematical modelling and computer science. They will be able to design, perform and enhance analyses with the appropriate methods and technologies to address practical medical and clinical questions.
The MSc Health Data Science leverages University teaching staff diversity – including biomedical, clinical, social, engineering, computer science, informatics, computational, mathematical and applied health sciences – alongside that of our external partners. This will deliver training across the breadth of health data science and research from clinical bioinformatics, health informatics, epidemiology, clinical systems, patient-focused systems, bioinformatics and omics analytics. This environment caters for a diverse and rich, real-world, real-time environment within which our student cohort will be embedded to receive practical delivery of essential skills that will develop their abilities to conduct 21st-century health data science.
This bespoke health data science programme is designed around four different, complementary themes:
Health Data & Skills - 'How?' (3 modules)
Health Data & the Expert - 'What?' (2 modules)
Health Data & the Patient - 'Why?' (1 module)
Health Data & Research - 'Now!' (1 module)
Why study this course?
Students on the Health Data Science programme will:
be embedded within a unique, diverse, collaborative, interdisciplinary ecosystem integrating academic, NHS and industry and exposed to a rich training ground for the next generation of health data scientists.
acquire principles/skills governing health data science, their foundations, and experience/training in their effective application within real-world healthcare settings.
gain an in-depth understanding of healthcare systems, their underlying ethics and governance structures as well as of the role of current/potential future applications of health data science in the delivery of patient-centred care alongside patient-provider interactions and wider aspects of healthcare delivery.
understand how health data science skills can revolutionise utilisation of the relatively untapped resource of healthcare data and patient-specific genome information for research, clinical care and innovation in the 21st century.
learn the value of different types and values of health information, of health information systems and their integration, and the role of information-related technologies in delivering healthcare.
gain practical experience of working within diverse, multi-disciplinary environments across the healthcare sector and associated industries, and develop effective communication and delivery skills within the wider healthcare landscape.
Entry Requirements
Our Standard Requirements
A 2:1 undergraduate honours degree in biology, mathematics, computer science or other relevant subjects.
International students
Academic requirements
We accept a range of international qualifications - use the dropdown box below to select your country and see the equivalencies to the above UK requirements.
English language requirements
IELTS 6.5 with no less than 6.0 in any band.
If you are made an offer of a place to study and you do not already meet the language requirement, you have the option to enrol on our English for Academic Purposes Presessional course. If you successfully complete this, you will be able to fulfil the language requirement without needing to take a further qualification.
Modules
Foundations of Computing Practices in Health Data Science (20 credits)
Essentials of Mathematics and Statistics (20 credits)
Data Analytics & Statistical Machine Learning (20 credits)
Health Data Fundamentals (20 credits)
Epidemiology and Health Informatics (20 credits)
Integrative Multimodal Data Analytics (20 credits)
Interdisciplinary Health Data Research Project (60 credits)
Scholarships
Birmingham Masters Scholarships
We are offering over 200 awards of £2,000 to support the brightest and best applicants wishing to undertake Master's study at the University during 2022-23.
The deadline for applications is Saturday 30 April 2022.
Postgraduate Loans for Masters students
As a UK resident, you can apply for a government loan for a postgraduate Masters's study. This is a contribution towards the costs of study and whether the loan is used towards fees, maintenance or other costs will be at the discretion of the student.
Employability
This programme will give students a clear and compelling experience of working across academic, NHS and industry sectors, with extensive supervisory and mentoring arrangements to maximise their exposure to these environments. Not only will this prepare them mentally/practically, but also help identify specific opportunities/contacts for progress into relevant careers pathways.
University Careers Network
Preparation for your career should be one of the first things you think about as you start university. Whether you have a clear idea of where your future aspirations lie or want to consider the broad range of opportunities available once you have a Birmingham degree, our Careers Network can help you achieve your goal.
Our unique careers guidance service is tailored to your academic subject area, offering a specialised team (in each of the five academic colleges) who can give you expert advice. Our team sources exclusive work experience opportunities to help you stand out amongst the competition, with mentoring, global internships and placements available to you. Once you have a career in your sights, one-to-one support with CVs and job applications will help give you the edge.
If you make the most of the wide range of services you will be able to develop your career from the moment you arrive.