PhD in
Doctor of Physical Therapy
Saint Francis University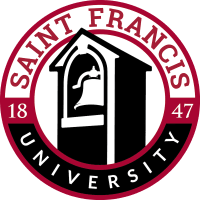 Introduction
Help Patients Live to Their Fullest Potential with a Physical Therapy Degree from Saint Francis University
Physical therapists are evidence-based healthcare professionals who diagnose and treat individuals of all ages who have conditions that limit movement and ability to perform functional activities in their daily lives. The profession offers diverse career opportunities in a multitude of practice settings, including hospitals and outpatient clinics, sports rehabilitation centers, schools, senior communities, and home-care practices.
Guaranteed placement into the doctoral program upon completion of the defined 3+3 or 4+3 undergraduate paths at SFU
100% employment rate within one year of graduation in clinics or private practice
State-of-the-art classroom, laboratory, and clinical education space through the Health Sciences Experiential Learning Commons
The SFU Learning Experience
The Doctor of Physical Therapy program at SFU provides you with an ethical education that will strengthen the emotional and moral challenges of a caring profession. As you progress through our physical therapy program's curriculum, you will not only learn how to provide safe and quality care to patients but also develop a strong foundation in Franciscan ethics and values.
The PT Student Experience
Throughout your time at SFU, you will cultivate your physical therapy skills, study in a clinical setting, connect with potential employers, and develop who you wish to become. Upon graduating from our PT program, you will have the skills it takes to be a Doctor of Physical Therapy and practice as a professional in the field.
Sharpen your skills in the DiSepio Institute for Rural Health and Wellness
Graduate students participate in our C.A.R.E.Clinic (Community Access Rehabilitation for Everyone), which aims to provide free, high-quality, patient-specific rehabilitative care to all community members who do not have reasonable access to other services.
Earn a bachelor of science degree in Exercise Physiology, building a foundation of anatomy, biology, chemistry, mathematics, and physics, on your way to earning your Doctor of Physical Therapy.
In your first year, you'll have the opportunity to conduct research with renowned faculty and present your findings at physical therapy conferences around the country.
Accreditation
The Doctor of Physical Therapy program at Saint Francis University is accredited by the Commission on Accreditation in Physical Therapy Education (CAPTE)
Curriculum
Our physical therapy program provides evidence-based post-professional education to advance professional practice and development. Your education experience is built to meet the high standards set forth by the Commission on Accreditation in Physical Therapy Education. We strive to train physical therapy educators and researchers to lead the next generation of physical therapist clinicians in exceeding these standards.
Professional Curriculum Progression Standards
All physical therapy majors in the three-year professional curriculum must meet the following academic requirements. Failure to meet any one of the progression standards will result in dismissal from the program.
Beginning with the fall semester of the 1st year, achieve a minimum GPA of 3.000 each semester of the professional curriculum.
Beginning with the fall semester of the 1st year, achieve a minimum cumulative GPA of 3.000 during the professional curriculum.
Earn a minimum grade of "C" or better in every professional curriculum course.
Achieve a grade of "Pass" on all courses in the professional curriculum graded as "Pass/Fail."
Achieve competency on all lab practical examinations as per department policy.
Successfully complete each clinical education experience/ course and achieve a grade of "Pass" in each course (per Department policy).
Adhere to the University Conduct Code and all Essential Functions as defined in the Physical Therapy Program Student Handbook.
Technical Standards or Essential Functions
Essential functions are the activities that a student physical therapist must be able to perform in partial fulfillment of the requirements for the successful completion of the professional curriculum. Every student must be able to perform these essential functions, with or without reasonable accommodations, while practicing safely, ethically, and in a legal manner.
Courses Required for graduate students entering SFU for the DPT only
PT 402 - Movement Science 1
PT 403 - Movement Science 2
PT 404 - Surface Anatomy/Palpation
PT 405 - Exercise Prescription
PT 406 - Human Anatomy 1
PT 407 - Human Anatomy 2
PT 501 - Neuroscience 1
PT 510 - Pathology and Differential Diagnosis - Cardiopulmonary
PT 511 - Patient/Client Management 2 - Musculoskeletal 1
PT 520 - Physical Therapy Procedures
PT 521 - Patient Management 1 - Cardiopulmonary
PT 522 - Therapeutic Agents
PT 523 - Patient Management 2 - Musculoskeletal 1
PT 530 - Professional Issues - Documentation
PT 540 - Pharmacology
PT 560 - Clinical Education Seminar 1
PT 561 - Clinical Education Seminar 2
PT 570 - Professional Development 1 - Personal Professionalism 1
PT 571 - Professional Development 2 - Service and Social Professionalism
PT 601 - Neuroscience 2
PT 610 - Pathology and Differential Diagnosis - Neurology
PT 611 - Pathology and Differential Diagnosis - Multiple Systems
PT 620 - Patient Management 3 - Neurology 1
PT 621 - Patient Management 4 - Pediatrics
PT 622 - Patient Management 5 - Musculoskeletal 2
PT 623 - Patient Management 6 - Neurology 2
PT 624 - Motor Control and Advanced Exercise Prescription
PT 630 - Professional Issues - Ethics
PT 631 - Professional Issues - Legal
PT 640 - Advanced Concepts in PT Practice 1
PT 641 - Psychosocial Aspects of Patient Care
PT 642 - Teaching and Learning
PT 660 - PT Clinical Education Experience 1
PT 670 - Professional Development 3 Personal Professionalism 2
PT 671 - Professional Development 4 Leadership
PT 720 - Patient Management 7 - Geriatrics
PT 721 - Patient Management 8 - Other Systems
PT 722 - Patient Management 9 - Complex Patients
PT 730 - Administration
PT 731 - Professional Issues - Health Policy and Administration
PT 740 - Advanced Concepts in PT Practice 2
PT 741 - Health and Wellness
PT 760 - Clinical Education Experience 2
PT 761 - Clinical Education Experience 3
PT 762 - Clinical Education Experience 4
PT 770 - Professional Development 5 Career Development 1
PT 771 - Professional Development 6 Career Development 2
And labs for PT 402, 403, 405, 406, 407, 520, 521, 522, 523, 620, 621, 622, 623, 720, 721, and 722
Program Outcome
Upon successful completion of the Doctor of Physical Therapy (DPT) program, you will be able to:
Sit for the national physical therapy licensure examination;
Effectively care for patients with a broad array of needs, from wellness and prevention to those with complex or debilitating medical conditions;
Provide evidence-based and patient-centered care; and
Diagnose and treat movement dysfunction for patients of all ages and backgrounds.
English Language Requirements
Certify your English proficiency with the Duolingo English Test! The DET is a convenient, fast, and affordable online English test accepted by over 4,000 universities (like this one) around the world.