Bachelor in
Degree in Speech Therapy
University of Oviedo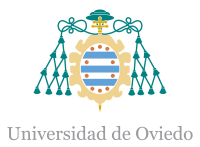 Introduction
Admission profile
Recommended Baccalaureate with passed University entrance exam: Sciences and Technology.
Higher education training cycle.
Access Test for people over 25, 40 or 45 years old.
University degree.
It is recommended that the student shows interest in communication and care processes in health and educational settings, with the ability to analyze the behavior of others and observe communication situations, with a positive predisposition towards working in multiprofessional teams.
Professional outings
The professional practice of the speech therapist is aimed at the evaluation, diagnosis and treatment of language, speech and voice disorders, it covers very diverse areas.
Professional profiles:
Hospital environment (Rehabilitation, pediatrics, ENT and neurology).
Educational environment (sensory, language, development, special education, etc.).
New technologies (Use of ICTs, specific software development)
Social intervention (Seniors, disabilities, family and childhood, immigrants, etc.).
Private area (Private clinic, assistance to professionals: journalists, teachers, etc.).